#Bitcoin #btc #Crypto #CryptocurrencyMarket #BitcoinHodlDay #bitcoinHunter #bitcoinprice #BITCOIN88 #cryptocurrency #Radix

The price of ApeCoin (APE) has dropped by 2% in the past 24 hours, with its fall to $2.03 coming as the cryptocurrency market as a whole refuses to budge today.
Despite this drop, APE is actually up by 11% in the past week and by 14% in the past fortnight, although the token has declined by 44% since the beginning of the year, in contrast to many other top-100 cryptocurrencies.
However, APE's joys in the past couple of weeks coincides with similar gains for other meme-related tokens, suggesting that the market is rediscovering a taste for meme tokens.
This could mean that APE may enjoy ongoing rises in the near future, especially when whales appear to be accumulating the token once again.
ApeCoin Price Prediction as Meme Coins Make a Comeback – 10x Potential From Here?
ApeCoin looks as though it's at the begining of what could be a significant breakout, with its technical indicators remaining in a position of strength.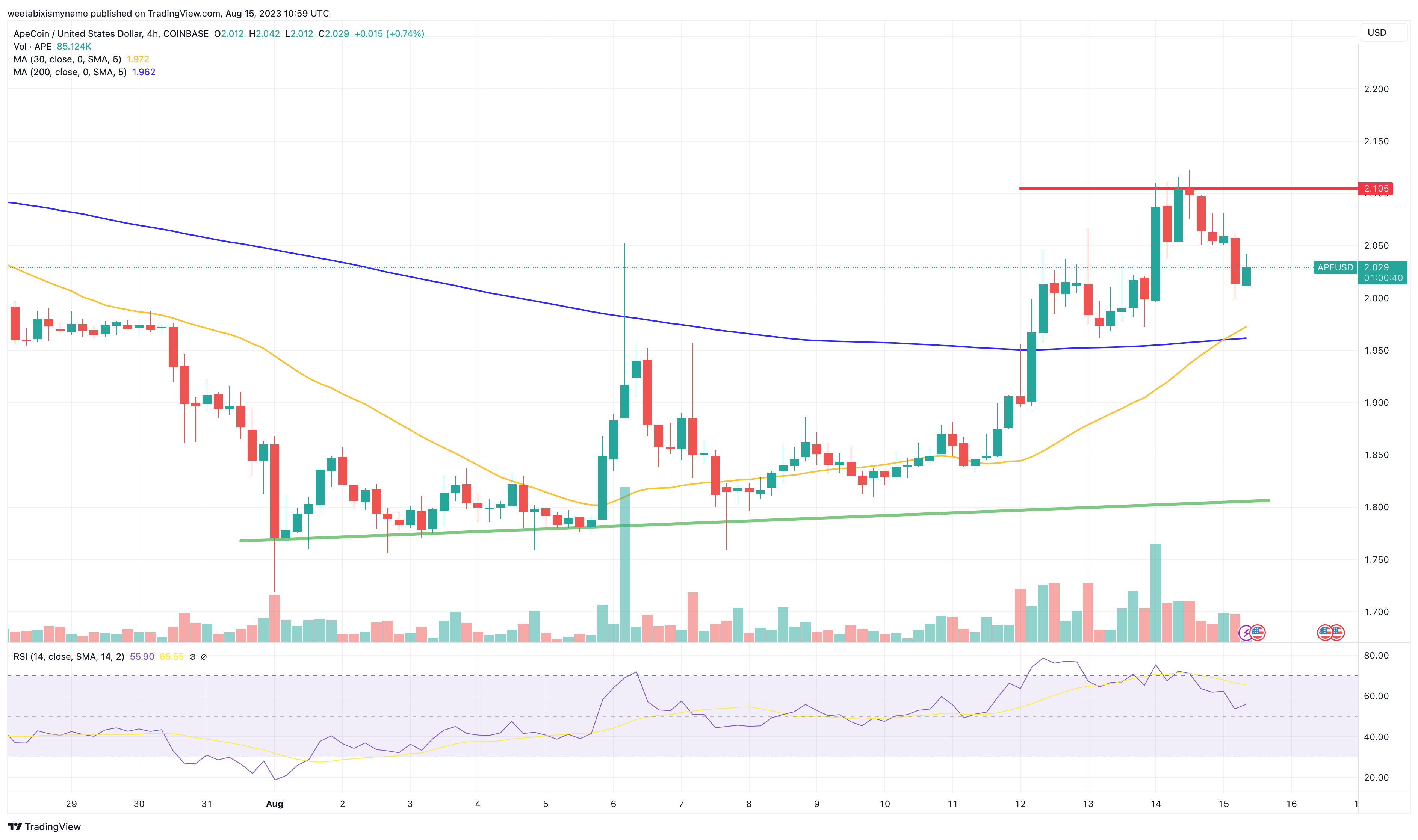 Most notably, APE's 30-day moving average (yellow) has just climbed over its 200-day average (blue), forming a golden cross that often happens when an asset is breaking out to a new higher level.
Backing up this indicator is the altcoin's relative strength index (purple), which is rising again after a dip towards 50, and after a longer period in late July and early August when it was consistently below 50 and close to 30.
It therefore seems as though APE is finally making a long overdue recovery of sorts, with its support level (green) also showing signs that the coin is raising its floor and has finished its earlier period of decline.
While little has happened to ApeCoin on a fundamental level that would justify its recent gains, it's clear that whales have begun accumulating the coin once gain, having realised that it's (arguably) highly undervalued.
It was precisely around the time of this withdrawal of APE from Binance that the token began rising aggressively again, with the news that whales are interested in the token potentially acting as a signal for smaller investors to also buy the coin.
Of course, it's difficult to say for how long APE can continue to rise, particularly when there's nothing especially new or significant on ApeCoin's horizon.
But the fact that APE has been oversold for so long should indicate at least a medium-term rally, particularly when ApeCoin as a platform – as the DAO for the Bored Ape ecosystem – remains as valuable as it's always been.
What's interesting is that, even though there has been a decline in the NFT market since the peak of the 2021 bull season, volumes for Bored Ape NFTs still remain close to what they were in November 2021.
As such, it's credible to claim that APE will continue to witness steady improvements over the medium- and long-term, with the coin potentially on course to return to $4 by the end of the year.
Pre-Surge Presale Tokens
While APE does look as though it should continue to recover over the next few months, its progress could be gradual, as well as intermittent.
But this doesn't mean that there aren't market-beating returns to be had at the moment, with a number of new presale tokens promising to rally big once their sales end and they list on exchanges.
This includes Launchpad.xyz (LPX), an all-in-one Web3 platform that launched the presale for its native LPX token in July and has already raised in excess of $1.2 million.
Intended as a user-friendly one-stop-shop for Web3, Launchpad's platform will encompass a Web3 wallet address, as well as a play-to-earn game hub, a launchpad for presales, a trading terminal, and an AI-powered search engine specifically for cryptocurrency trading.
Launchpad will also come with its own DEX, while it will also roll out an NFT exchange next year and a feature for creating (and trading) fractionalized assets.
Such a wide range of features helps to explain why Launchpad has been able to raise so much money so quickly, with investors expecting to make a good return in the short- and long-term.
And it's within this ecosystem that LPX will serve as a utility token, with holders using it to pay for fees, while also being able to stake it in order to gain a discount on the same fees.
Its presale is currently offering the token at a price of $0.0445, with investors able to buy going to the official Launchpad.xyz website and connecting their wallets.
But this price could end up seeming pretty cheap once the sale ends in the next few weeks, and exchanges begin listing LPX.
Visit Launchpad xyz Now
Disclaimer: Crypto is a high-risk asset class. This article is provided for informational purposes and does not constitute investment advice. You could lose all of your capital.