#Bitcoin #btc #Crypto #CryptocurrencyMarket #BitcoinHodlDay #bitcoinHunter #bitcoinprice #BITCOIN88 #cryptocurrency #Radix

As Bitcoin price grapples with a decline, trading at $28,643 and witnessing a decrease of nearly 2% on Thursday, BTC investors in the UK face a new challenge.
Paypal, a major facilitator of online transactions, has temporarily halted all cryptocurrency purchases in the UK, attributing the move to recent regulatory changes. 
This suspension is a blow to many, especially since there was an initial wave of optimism following Robert Kiyosaki's bullish prediction of Bitcoin surpassing the $1M mark.
However, the prevalent negative market sentiment meant BTC could not capitalize on this positive forecast. 
While this presents a temporary setback, there's a glimmer of hope as Paypal anticipates resuming cryptocurrency services in the UK by early 2024.
Paypal Halts UK Crypto Purchases, Expects Resumption in Early 2024
The UK Financial Conduct Authority (FCA) has introduced new rules for crypto transactions, leading to PayPal's temporary suspension of purchases from October 1, 2023, until early 2024.
This interruption aligns with PayPal's commitment to regulatory compliance and its cooperation with global regulators, resulting in a decrease in BTC/USD prices.
BTC Fails to Rise Despite Positive $1M Prediction by Robert Kiyosaki Amidst Negative Market Sentiment
Kiyosaki, the author of the bestseller Rich Dad Poor Dad, predicts that Bitcoin may reach $1 million if the world economy crashes. 
He also believes that gold and silver are safe-haven assets during economic downturns, and predicts that their prices will rise to $75000 and $60000, respectively, in the event of a global economic crash.
Kiyosaki emphasizes that the national debt is too high and suggests that holding US dollars may result in trouble. This likely contributes to the current market sentiment.
As an influential figure, his insights could sway investor perceptions. However, his remarks failed to bring any positive momentum in BTC prices today mainly because of the prevailing negative market sentiment driven by the recent Binance FUD. 
Yesterday, the entire crypto market faced a massive fall amid the halt of crypto payments by Binance after it announced that it would.
As an influential figure, his remarks failed to sway investor perceptions and BTC prices remained stagnant due to negative market sentiment caused by recent Binance FUD. 
The cryptocurrency market experienced a significant decline yesterday after Binance announced the shutdown of its Binance Connect services, leading to selling pressure on BTC.
Bitcoin Price Prediction 
Examining Bitcoin's technical indicators, the cryptocurrency appears to be trading with a bearish bias around the 28,550 mark. 
On the two-hourly timeframe, Bitcoin has breached a significant double bottom support, previously established around the 28,775 level. 
This breach, evidenced by candlestick closures below this threshold, suggests a dominant bearish sentiment in the market. 
Such a sentiment could potentially push Bitcoin's price towards the next significant support at the 28,240 level.
Key indicators, such as the Relative Strength Index (RSI) and the Moving Average Convergence Divergence (MACD), are currently positioned in the oversold territory. 
This implies that while a continued downtrend is probable, there's also potential for a bullish correction, especially around the 28,250 level which currently serves as support.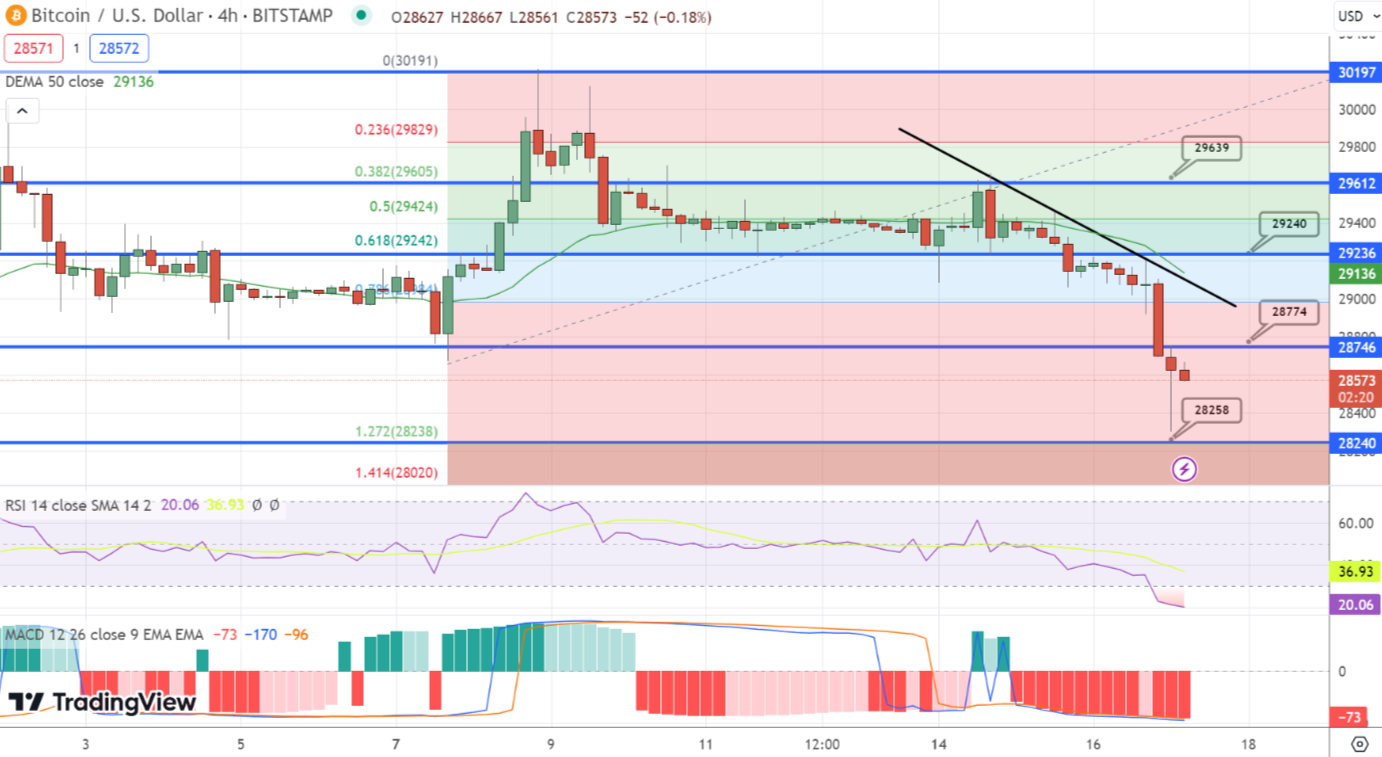 For traders, it's imperative to monitor the 28,775 mark closely. Should Bitcoin trade below this level, the bearish trend might intensify. 
Conversely, any bullish momentum surpassing the 28,775 threshold could set Bitcoin on a path towards the 29,250 level.
Top 15 Cryptocurrencies to Watch in 2023
Stay informed about the latest initial coin offering (ICO) projects and alternative cryptocurrencies by regularly exploring our carefully selected collection of the top 15 digital assets to watch in 2023.
This thoughtfully curated list has been compiled by industry experts from Industry Talk and Cryptonews, ensuring that you receive professional recommendations and valuable insights.
Stay ahead of the game and discover the potential of these cryptocurrencies as you navigate the ever-changing world of digital assets.
Find The Best Price to Buy/Sell Cryptocurrency

Disclaimer: Cryptocurrency projects endorsed in this article are not the financial advice of the publishing author or publication – cryptocurrencies are highly volatile investments with considerable risk, always do your own research.