#Bitcoin #btc #Crypto #CryptocurrencyMarket #BitcoinHodlDay #bitcoinHunter #bitcoinprice #BITCOIN88 #cryptocurrency #Radix

A BNB blockchain-based meme coin called Cat (CAT) is has pumped up over 100% on Wednesday, while another meme coin called Shibarium Token (SHIBARIUM) is up over 130%.
The former's latest rally has pushed its market cap back to the north of $1 million, with over $2.5 million in trading volumes coming in in the last 24 hours alone.
CAT now has nearly 12,000 holders, impressive stuff.
However, while DEXTools' GoPlus security audit identifies no issues with the token's smart contract, the more than $300,000 in DEX liquidity is not locked, meaning CAT could still end up being a rug pull.
SHIBARIUM, meanwhile, last had a market cap of close to $1 million, but could be a scam.
The token's website tries to falsely imply that it is in some way associated with the Shiba Inu ecosystem, which is about to launch the official public version of its Shibarium Ethereum layer-2 scaling protocol.
But Shiba Inu hasn't launched a coin called Shibarium – the token appears to be a fake trying to benefit from the hype of the Shibarium launch.
That means that buyers of this token should exercise extreme caution that the token is just an attempted rug pull.
Indeed, the $300,000 in DEX liquidity isn't locked, and could pulled at any moment.
DEXTools' GoPlus security audit also reveals the token's issuer could pause transfers at any moment.
Buy SHIBARIUM at your own peril.
Here Are the Best Meme Coin Alternatives
Two recently launched coins called BTC20 and Shibie could present a much better risk-reward opportunity for traders, thanks to their compelling value propositions, and given the strong likelihood that they aren't scams.
BTC20 (BTC20)
BTC20 is Bitcoin "reborn" on the Ethereum blockchain, with the exact same tokenomics, but with the clock wound back to April 2011, when Bitcoin briefly hit $1 per token.
The token was initially sold in presale for $1 each (with 6.05 million sold, in line with Bitcoin's supply back in April 2011).
But it hit highs around $6 per token at the end of last week.
While it has since slipped back under $2 per token, presale investors are still close to 2x up.
And investors continue to view BTC20 as one of 2023's best passive income opportunities.
That's because BTC20 can be staked, with participants of the staking pool gaining from the issuance of new BTC20 tokens, in line with the issuance rate of Bitcoin back in 2011 (back when it was very high).
As per BTC20's staking dashboard, APY's are currently over 60% for those who buy and stake the token.
Moreover, 88% of BTC20 liquidity is locked 12 months, and the DEXTools' GoPlus security audit reveals no concerning aspects of the token contract.
Traders can rest assured that BTC20 isn't a scam.
Shibie Token (SHIBIE)
An even newer token called Shibie, which aptly combines the themes of the Shiba Inu dog meme with Barbie, which has been taking the global box office by storm this summer, has been pumping since its DEX launch earlier in the day.
SHIBIE was last trading around $0.0003, up 2x from its DEX launch price and with a market cap of around $1.5 million.
Liquidity is 100% locked for three months, and DEXTools' GoPlus security audit has identified no concerning aspects to the contract.
This token really likes like an attempt to generate a real pump, not to scam its early investors.
With Shiba Inu pumping thanks to the upcoming Shibarium launch, Shibie could do very very well.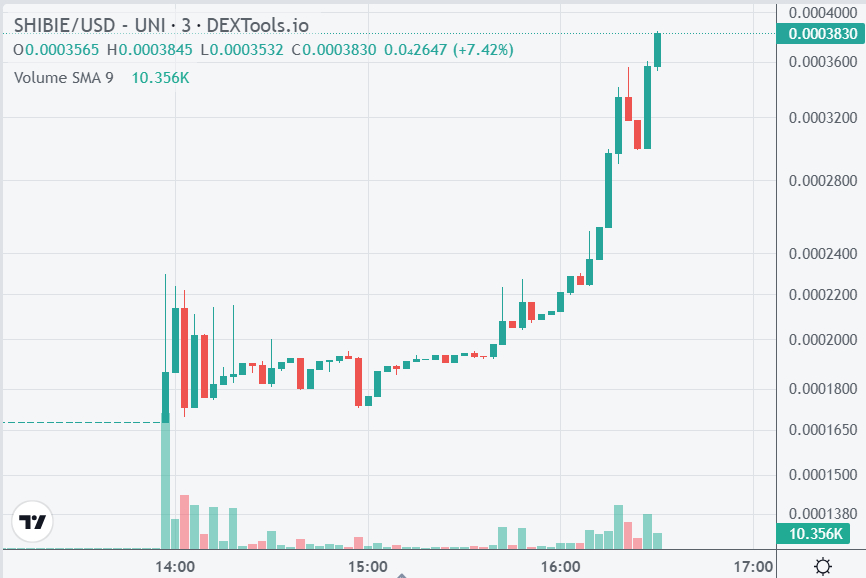 Disclaimer: Crypto is a high-risk asset class. This article is provided for informational purposes and does not constitute investment advice. You could lose all of your capital.