#Bitcoin #btc #Crypto #CryptocurrencyMarket #BitcoinHodlDay #bitcoinHunter #bitcoinprice #BITCOIN88 #cryptocurrency #Radix

The price of Ethereum (ETH) has declined by 2% in the past 24 hours, dropping to $1,782 amid a similar fall for the wider cryptocurrency community today.
ETH is now down by 4% in the past week and by 6% in the last 30 days, with the market's biggest altcoin having risen by 49% since the start of 2023.
Ethereum's moves today also come following the publication of a blog by Vitalik Buterin, who praised Twitter's (now X's) recent Community Notes feature, which uses a complex algorithm to rank comments according to usefulness. 
Interestingly, Buterin suggests that Community Notes is one of the best examples to date of the use of transparent "crypto values" in the mainstream, something which could pave the way for further similar uses in the near future.
Ethereum Price Prediction as Vitalik Compares X's Social Media Algorithm to Crypto – Here's What You Need to Know
Ethereum has begun what looks like a notable selloff, with its indicators currently suggesting that there's still a little more room for the altcoin to fall further before it rights itself.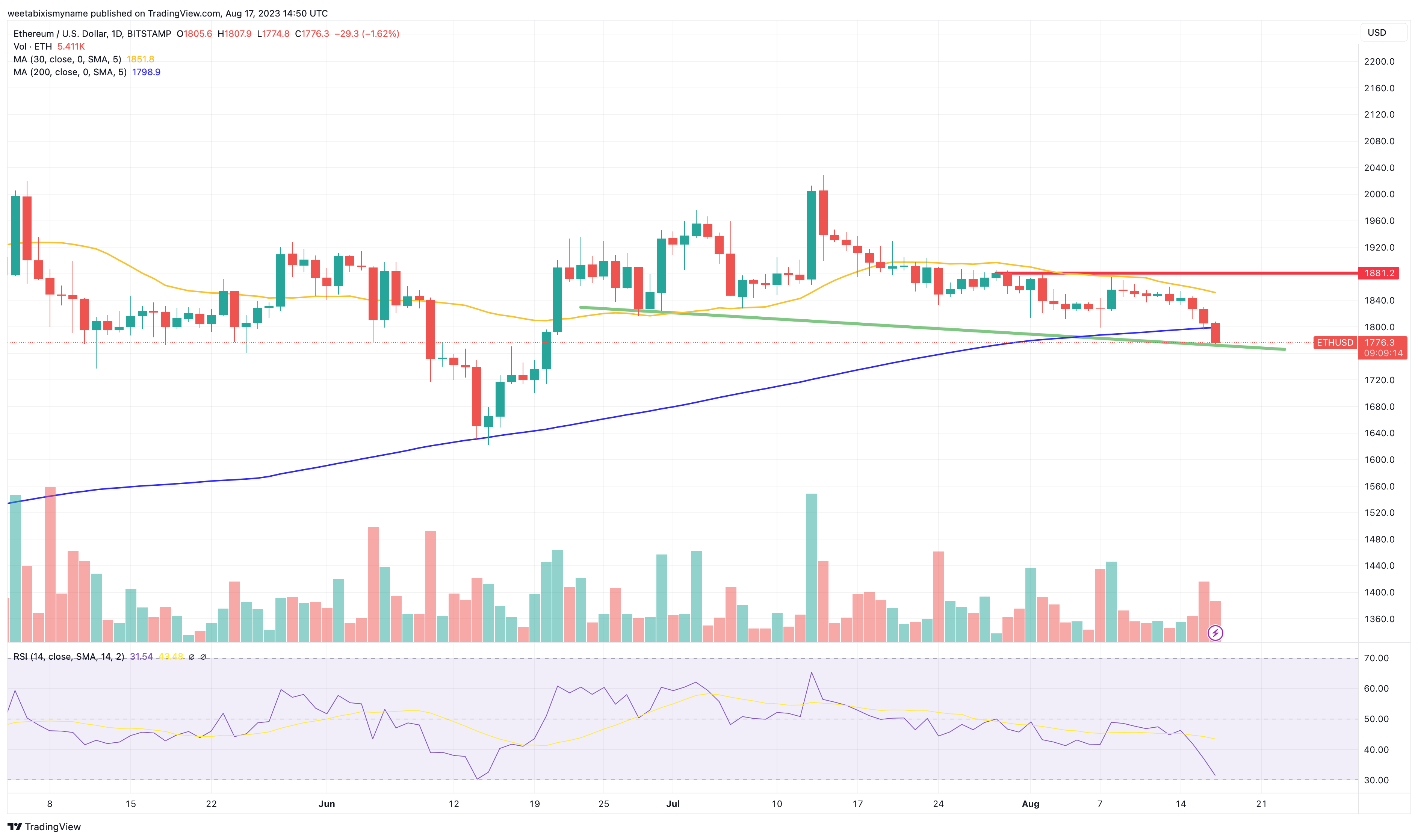 Its relative strength index (purple) is about to drop below 30, which would indicate that the coin is oversold and due a correction upwards.
This may not happen for a few more days, however, with ETH's 30-day moving average (yellow) still some distance above its 200-day average (blue), even though it has begun sliding downwards.
At the same time, the altcoin's support level (green) has been declining for several weeks now, and could potentially drop to its level in mid-June – at around $1,640 – before the picture begins to improve.
As grim as this may look for Ethereum, it needs to be said that today's fall has little do with the cryptocurrency and its platform on any fundamental level, with cryptocurrency market down across the board.
Indeed, today's dropoff is largely the product of global investor fears caused by the Chinese economy, as well as ongoing pessimism surrounding recent applications for Bitcoin ETFs.
As for Ethereum itself, it continues to be in rude health, with co-founder Vitalik Buterin recently publishing a blog that championed Twitter's Community Features, citing its algorithm as an example of 'crypto values' in the wild. 
While such a feature has no direct bearing on Ethereum itself or its price, it nonetheless hints indirectly at a future where transparent algorithms may play a greater role in everyday life.
And while this scenario may still be a long way down the round, Ethereum could be part of such a future, something which would undoubtedly boost ETH and its price.
Regardless, ETH can be expected to rebound healthily from its recent dip, with the altcoin likely to return to $1,800 in the next couple of weeks.
And from there, it could hit $2,000 near the end of the year.
Newer Altcoins for Quicker Rallies
As strong as ETH remains, its progress is almost always going to be relatively gradual, given just how established it is by now.
That said, there are faster gains available in the cryptocurrency market right now, even with the current slowdown.
And in the main, such gains are likely to come from presale tokens, which can often rally big when they list on exchanges and trading platforms for the first time.
One of the likeliest presale coins to do this at the moment is Launchpad.xyz (LPX), a one-stop Web3 platform that launched the presale for its native LPX token in July and has already brought in more than $1.3 million in investment.
Launchpad aims to make Web3 more accessible for the average user and trader, with its platform set to provide users with such features as a Web3 wallet address, play-to-earn game hub, launchpad for presales, trading terminal, market intelligence, as well as an AI-powered search engine optimized for cryptocurrency trading.
In fact, the platform's all-encompassing features don't end there, with Launchpad also in the process of developing its own DEX and its own NFT marketplace, both of which come in addition to the ability to trade across mulitple blockchains.
It's because Launchpad has positioned itself as the portal for the emerging Web3 economy that its presale has done so well in such a short space of time.
It's also because, as the platform's native token, LPX will come with real utility, granting holders the ability to pay fees, obtain discounts, and also earn income from staking..
And while the presale has only a limited duration, new buyers can acquire some LPX by navigating to the official Launchpad.xyz website and connecting their wallets.
LPX is selling at a price of $0.0445, although this could end up seeming very cheap in the next few weeks, not to mention the next few months and years.
Visit Launchpad xyz Now
Disclaimer: Crypto is a high-risk asset class. This article is provided for informational purposes and does not constitute investment advice. You could lose all of your capital.