#Bitcoin #btc #Crypto #CryptocurrencyMarket #BitcoinHodlDay #bitcoinHunter #bitcoinprice #BITCOIN88 #cryptocurrency #Radix

In a dynamic period for Bitcoin, the renowned cryptocurrency has seen its value slightly diminish, trading at $29,231—a 0.50% decrease as of Wednesday. 
Adding to the ever-evolving landscape, Europe has made headlines by launching the very first Bitcoin ETF.
At the same time, speculations swirl around the US Securities and Exchange Commission, potentially deferring its judgment on BlackRock's submission. 
This period also witnesses heightened anticipation in regulatory spaces, as a former SEC official forecasts profound shifts in crypto regulations post the upcoming election. 
Meanwhile, Bitcoin Depot's financial stride is evident; with its revenue surging by 18% in Q2, there's a palpable Year-Over-Year growth expectation, especially after its recent Nasdaq listing.
Europe Launches First Bitcoin ETF; US SEC Delays Decision on BlackRock's Filing
BTC/USD is falling today due to multiple market developments. Europe's first spot Bitcoin ETF launch on Euronext Amsterdam has drawn attention, possibly diverting investor interest from BTC.
Currently, BTC/USD is experiencing a downtrend due to the US SEC delaying decisions on BlackRock, Fidelity, and other spot Bitcoin ETF filings.
This delay creates an uncertain atmosphere and reflects a cautious regulatory approach.
Additionally, market sentiment is influenced by Europe's cryptocurrency adoption lead, the SEC's hesitation, and the opinions of experts who predict a challenging path for Bitcoin ETF approval.
Expert Predicts Major Changes in Crypto Regulations After Election Day
BTC/USD is currently decreasing due to potential crypto regulation changes. Insights from former SEC official John Reed Stark suggest that a Republican president's election in the US could lead to reduced crypto-enforcement efforts and benefit the industry. 
The prediction of a more favorable regulatory environment, including the potential approval of spot Bitcoin ETFs, could contribute to the market's sensitivity. 
Bitcoin Depot Sees 18% Revenue Increase in Q2, Expects YOY Growth After Nasdaq Listing
The US-based Bitcoin operator, Bitcoin Depot, recently released its Q2 report. Despite achieving a record $197.5 million in revenue, the market is reacting to wider trends.
The company's plans for expansion, which included its Nasdaq listing and partnerships with retail stores, were overshadowed by the negative sentiment of the cryptocurrency market.
While Bitcoin Depot forecasts growth, the recent downturn in the Bitcoin ATM market and broader market uncertainties might contribute to the current price decline.
Bitcoin Price Prediction 
The premier group suggests that Bitcoin shows a downward trend after crossing the $29,250 milestone.
Signs of bearish momentum below the 50-day exponential moving average imply that if Bitcoin breaks the $29,250 threshold, it might intensify the negative trend for today.
Additionally, crucial technical metrics, such as the Relative Strength Index (RSI) and the Moving Average Convergence Divergence (MACD), currently indicate a bearish outlook, amplifying this perspective.
At present, Bitcoin confronts a notable resistance near the $29,250 point, and a closing below this level could hint at a potential opportunity to short.
Regarding downward limits, Bitcoin's closest support is approximately in the $29,000 range.
Dipping below this level could lead the BTC value to plummet closer to $28,750.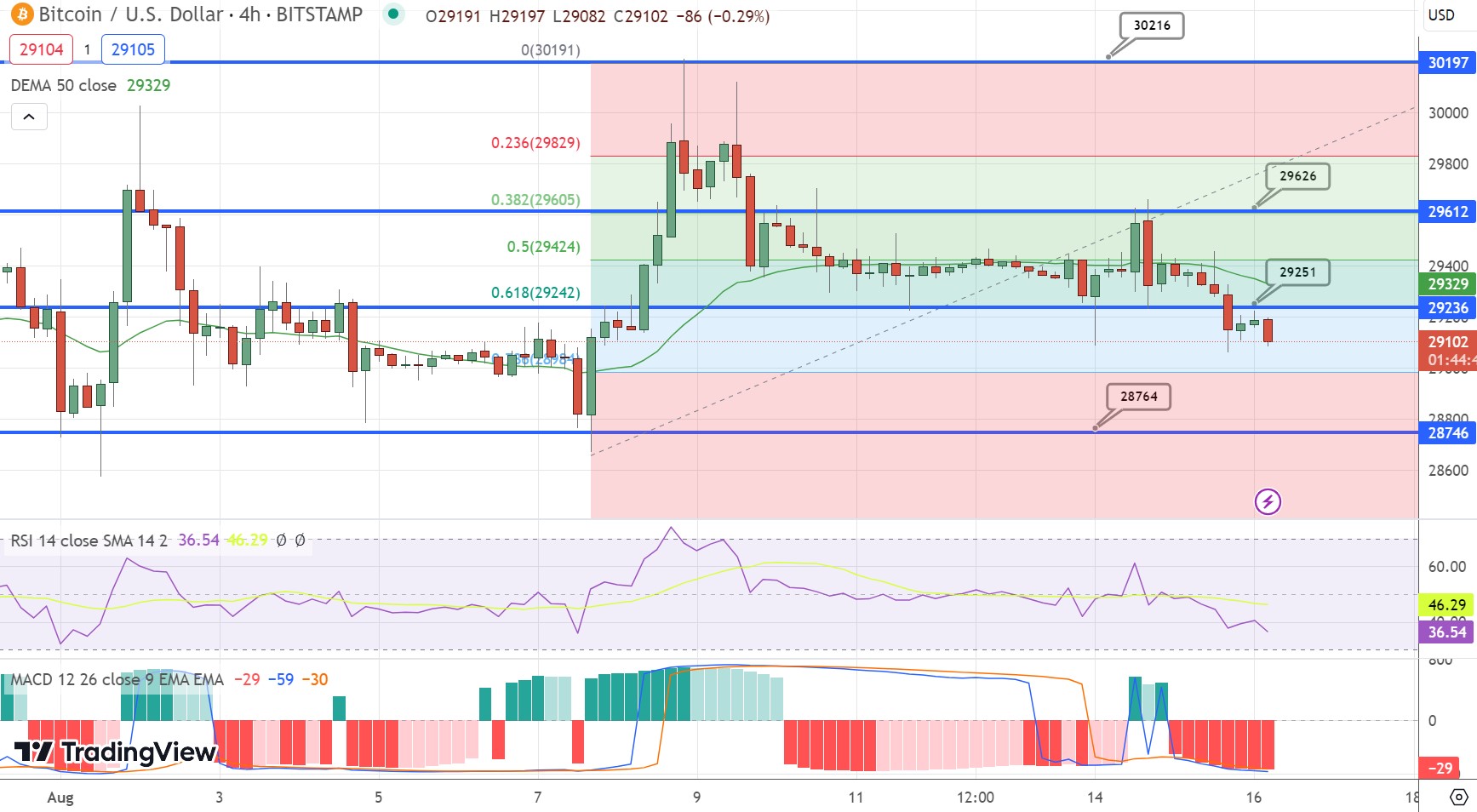 On the flip side, if Bitcoin can break past the $29,250 resistance, it might then face the next significant hurdle at $29,400.
Going even higher, the $29,600 threshold is expected to pose a considerable challenge for Bitcoin.
In conclusion, traders need to keep a keen eye on the $29,250 mark, watching out for bearish patterns such as a descending engulfing candle, closings beneath the 50-day moving average, and other negative indicators like the RSI and MACD, all pointing to a potential downward movement today.
Top 15 Cryptocurrencies to Watch in 2023
Explore our meticulously chosen collection of the top 15 digital assets to stay up to date on the latest initial coin offering (ICO) projects and alternative cryptocurrencies in 2023. 
This expertly curated list is brought to you by Industry Talk and Cryptonews, providing you with professional recommendations and valuable insights. 
Keep pace with the constantly evolving world of digital assets by discovering the potential of these cryptocurrencies.
Find The Best Price to Buy/Sell Cryptocurrency

Disclaimer: Cryptocurrency projects endorsed in this article are not the financial advice of the publishing author or publication – cryptocurrencies are highly volatile investments with considerable risk, always do your own research.