#Bitcoin #btc #Crypto #CryptocurrencyMarket #BitcoinHodlDay #bitcoinHunter #bitcoinprice #BITCOIN88 #cryptocurrency #Radix

The Hedera price has surged to $0.072648 today, with this price representing an impressive 10% gain in the past 24 hours.
HBAR's current price also means that it has risen by 25% in the last seven days and by 42% in the last 30, with most of these gains coming in the past week, following the news that a Hedera-based platform, Dropp, has been added to the list of FedNow service providers.
This development has underlined the potential of Hedera, which is a proof-of-stake decentralized network that uses hashgraph rather than blockchain technology, theoretically making it faster and more scalable than many of its rivals.
And with Hedera also witnessing growth elsewhere, it's likely that HBAR could continue rising in the longer as well as shorter term.
Hedera Price Prediction as HBAR Becomes Best Performing Coin of the Week – Can HBAR Reach $1?
HBAR's chart makes it clear why it's the best-performing top-100 coin of the week, with its indicators all showing strong momentum that could continue for several days yet.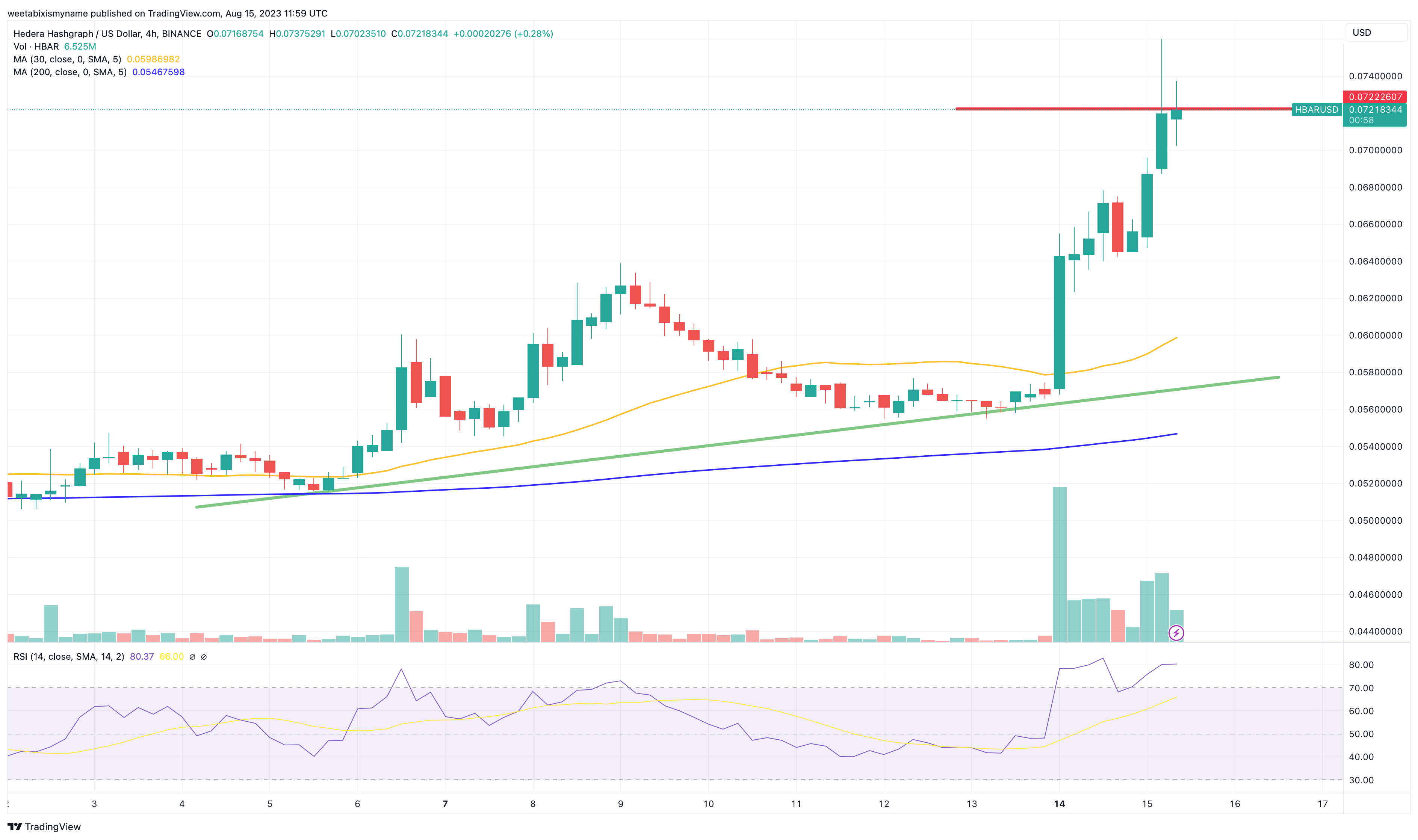 Its relative strength index (purple) has risen to 80 again after falling down to 70 yesterday, with its return to this very high level suggesting that its momentum is likely to last a while longer.
Similarly, HBAR's 30-day moving average (yellow) is now rising strongly above its 200-day average (blue), yet it still has room to rise further before it will become distinctly overbought and in need of crrection.
It's also likely that the altcoin's support level (green) will rise substantially in the coming days, meaning that even if today's rally doesn't last for much longer, HBAR shouldn't fall back down too far.
This caution aside, it's probable that HBAR will see further gains in the coming days, potentially moving to $0.080 before running out of steam.
And the reason for its momentum is that FedNow – the Federal Reserve's instant payments messaging system – has added the Hedera-based Dropp to its list of service providers.
Some have taken this to mean that Dropp's platform will be integrated into FedNow and will therefore be facilitating transfers for the system.
While this would be a massive win for Dropp and for Hedera, others have argued that the addition means that Dropp has been added to the list only as a potential service provider, and that it may never actually be used by FedNow.
Regardless, the addition can still be taken as a sign of Hedera's utility as a network, something which has also been indicated by the fact that its total value locked in has been steadily creeping up in recent weeks, having risen by 66% since the start of the year.
Such growth points to further rises for HBAR, which could possibly see out the year at around $0.090.
Diversify With High-Potential Presale Tokens
On the other hand, it remains just as likely that Dropp is never actually integrated into FedNow, and that Hedera languishes as a niche alternative to more established layer-one networks.
As insurance against such an eventuality, some traders may look to diversify into newer altcoins that are expected to rally big in the near future, with presale tokens being among the prime candidates for such rallies.
This is particularly the case with Wall Street Memes (WSM), a new ERC-20 token that has raised close to $24 million since beginning its presale in June.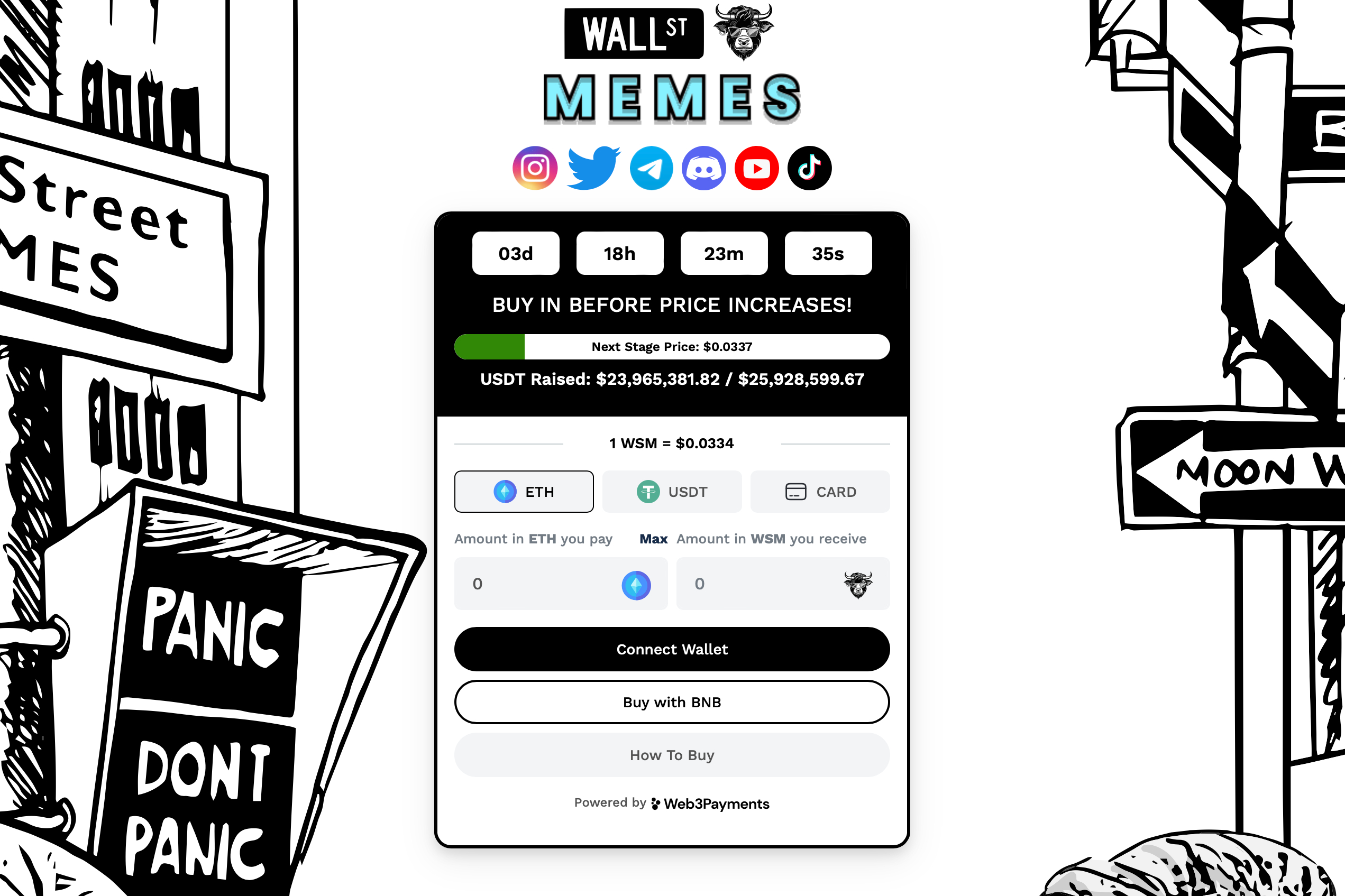 Such a figure far exceeds most other presale raises this year, and the main reason for the Wall Street Memes' success is that it has roots in the meme stocks movement that was responsible for AMC and GameStop rallies in 2021.
This connection means that WSM already has ready-made online community around it, as indicated by the fact that its Twitter account now has 260,000 followers.
This already puts it close to more established meme tokens such as Pepe (which has around 433,000 followers), which is highly impressive for a coin that hasn't even listed on exchanges yet.
It's also likely that this number will rise over time, especially when WSM's tokenomics are so decentralized, with 50% of the coin's maximum supply going to the presale and 30% being kept for community rewards.
This gives its community a greater stake in the cryptocurrency, while also protecting against big selloffs.
As such, investors are more likely to be incentivized to engage more fully with WSM, with new investors able to join the presale by visiting the official Wall Street Memes website and connecting their software wallets.
1 WSM is currently selling $0.0334, yet this will rise one more time, to $0.0337, when the sale's final stage begins in just under four days.
Visit Wall Street Memes Now
Disclaimer: Crypto is a high-risk asset class. This article is provided for informational purposes and does not constitute investment advice. You could lose all of your capital.