#Bitcoin #btc #Crypto #CryptocurrencyMarket #BitcoinHodlDay #bitcoinHunter #bitcoinprice #BITCOIN88 #cryptocurrency #Radix

The PEPE price has surged by 5% in the past 24 hours, with the meme token's move to $0.00000142 also representing a 23% gain in a week.
This means PEPE has easily outperformed the wider cryptocurrency market, which has barely moved today amid ongoing investor uncertainty (particularly in the face of the SEC's ongoing legal crusades).
And the meme token's rally today has happened as its 24-hour trading volume peaks above $100 million, which has been helped in part by a big purchase of the coin by a whale.
As such, PEPE could see further rises in the very near future before it peaks.
PEPE Price Prediction as $100 Million Trading Volume Floods In – Are Meme Coins Back?
There's no mistaking the fact that PEPE is currently enjoying some strong momentum at the moment, with its relative strength index (purple) hitting 70 this morning and staying there, at least for now.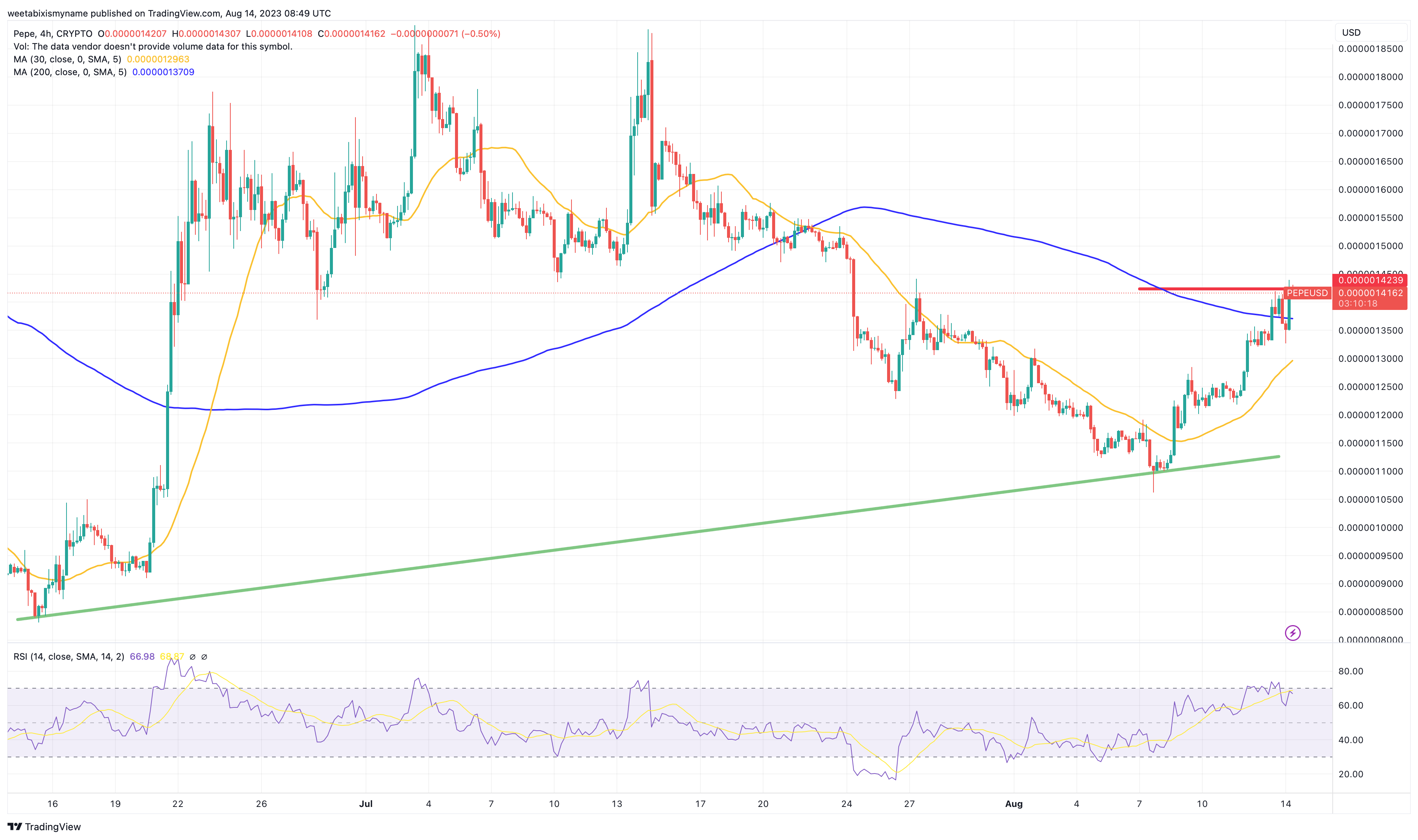 Perhaps more encouragingly, PEPE's 30-day moving average (yellow) is rising sharply towards its 200-day average (blue), with a 'golden cross' likely to be imminent, something which would indicate a breakout.
It's also promising to observe that the meme token's support level (green) has risen steadily over the medium term, providing PEPE with a higher base from which to launch new rallies.
This all means that PEPE could easily see further gains in the next few days, particularly when the rest of the market is struggling to move and when traders are therefore looking for alternative sources of profit.
It's possible that PEPE could hit $0.00000160 in the next few days or weeks, given that its indicators suggest it has more space to rise before becoming overbought.
Of course, PEPE is a pure meme token, so it could just easily fall in the next few days, yet whales continue to buy the coin, suggesting that it still has some rising left to do before another fall.
In fact, one whale has purchased more than 1 trillion PEPE in the past week or so, suggesting that larger investors are banking on the coin continuing to rise in the near future.
As for the longer term, sustained interest from whales could see it hit $0.0000020 in the next couple of months, and perhaps make it to $0.0000030 before the end of the year.
Presale Tokens May Be Safer Than Meme Tokens
Because PEPE could just as easily sink as rise some more, many traders may feel more comfortable diversifying into cryptocurrencies that aren't meme tokens.
And while the wider market has often been slow this year, there has been one class of cryptocurrency that has continued to do well: presale tokens.
While not every presale coin goes on to enjoy perform well, some of the best do comfortably beat the market, particularly when they list for the first time.
One of the most promising presale tokens right now is XRP20, a new ERC-20 coin that has already raised just over $2.6 million in only a few weeks.
This is a clear sign of market enthusiasm for XRP20, which is aiming to raise a total of $3.68 million in its presale, meaning that this sale is not too far away from closing.
One of the main reasons why investors have taken to XRP20 is that it offers an Ethereum-based version of XRP, with the same maximum supply of 100 billion tokens.
It's also priced at $0.000092, which was a price XRP itself had back in 2014.
Yet in contrast to the original XRP, XRP20 will enable its holders to stake the token and thereby earn a passive income.
Another bullish feature of XRP20 is that 10% of its total supply will be burned over time, making it a deflationary cryptocurrency.
Such tokenomics help to explain why the coin's presale has already done so well, with new investors still able to join by going to XRP20's official website and connecting their software wallets.
XRP20's sale is likely to end in the next couple of weeks, at which point its early investors could make a big profit as it comes up for listing on exchanges.
Visit XRP20 Now
Disclaimer: Crypto is a high-risk asset class. This article is provided for informational purposes and does not constitute investment advice. You could lose all of your capital.