#Bitcoin #btc #Crypto #CryptocurrencyMarket #BitcoinHodlDay #bitcoinHunter #bitcoinprice #BITCOIN88 #cryptocurrency #Radix

The highly-anticipated launch of Shibarium has been big news this week, after a huge influx of transactions overwhelmed the new main-net bridge on Wednesday – igniting a -28% tumble in SHIB price.
While typical of many big crypto launches, which often follow the adage 'buy the rumour, sell the news', the tumultuous Shibarium launch saw such an influx that tansactions on the network froze, with nearly 954 ether (ETH) and a whopping $750,000 of BONE – Shibarium's governance token – stuck in limbo.
Amid widespread misinformation on crypto Twitter, Shytoshi – Shibarium's lead developer – took to blogging to rebut rumours and explain the main-net launch difficulties; highlighting the overhwhelming number of transactions as the reason behind the issue.
For perspective, their scaling service with Alchemy provided 400 million compute units per month, yet, within half an hour of the launch, Shibarium had burned through 160+ million units!
If this pace persisted, they'd be clocking in billions of compute units daily, rivalling the busiest L2 blockchains in existence such as Ethereum.
SHIB Price Analysis: Can SHIBarmy Recover Tumbling Shiba Inu Token?
Following the tumultuous downside move, SHIB is trading low at a current price of $0.0000085 (representing a 24-hour change of +4.06%).
The build-up of anticipation ahead of the Shibarium launch had seen price climb to a local high of $0.00001135 on August 12, reclaiming a price level last seen in April.
However, despite the catastrophic news, SHIB's bleed-out actually started on Sunday 13, four days ahead of the main net launch (which wasn't revealed until the night of Tuesday 15). 
By the time Shibarium's difficulties triggered the cascade, SHIB had already lost -6.8% across three days.
And it appears the 200DMA could have played a part in the scale of SHIB's losses, with support failing in sequence with the Shibarium freeze.
The 200DMA demarcates a key level for SHIB, with the recent push up to $0.00001135 representing the first reclamation since April 20.
Rejection from the 200DMA at similar heights in April, saw a major -48% retracement, which was only stopped by lower trendline support at $0.0000054.
Worse still, following the loss of the 200DMA, SHIB's tumble quickly smashed through the 20DMA too – tumbling all the way down to a lower support level at $0.0000075.
Yet, the downside move could prove to be positive for SHIB's technical structure post-Shibarium.
This is because the RSI has cooled-off to a significant 40, switching from 'overbought' to 'oversold' signalling upside could resume soon.
And while the MACD contrasts this with minor bearish divergence at -0.00000009, a strong +4% bounce today suggests buy pressure is resuming following Shytoshi's clarification.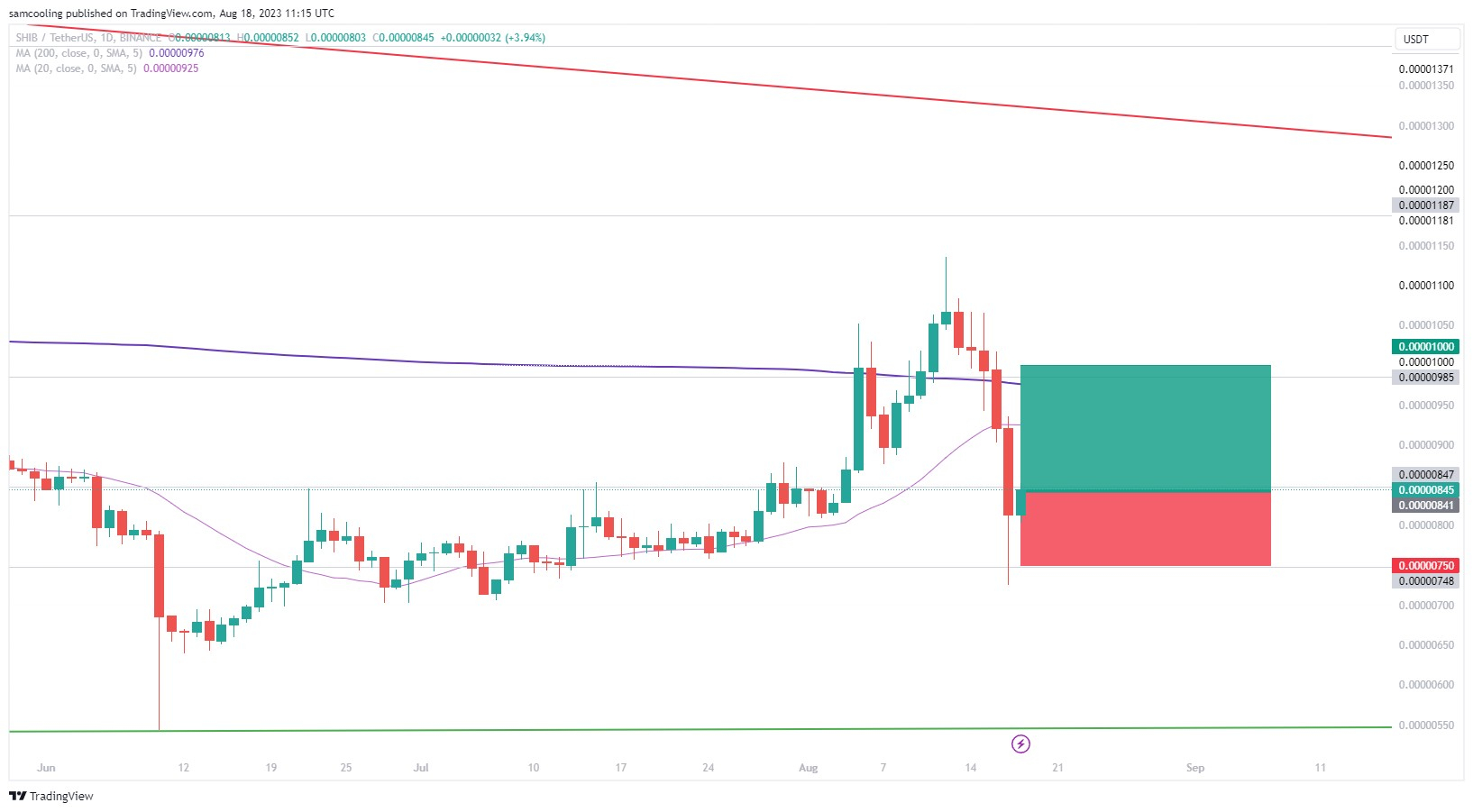 Overall, amid the downside, SHIB's upside target has shifted to reclaiming position atop the 200DMA at $0.00001 (+18.9%).
While to the downside, SHIB appears to be trading above a tried and tested support level at $0.0000075 (-10.8%)
This leaves SHIB with a risk: reward ratio of 1.75, a good entry, dominated by strong upside potential.
Yet, while the SHIBarmy are still reeling from losses, and glued to the charts – smart money have already began to rotate their capital into project fast growing to become the quickest $0-$100m market cap meme coin in the market.
Sonik Coin Attempts Record For Fastest $0 – $100M Market Cap Presale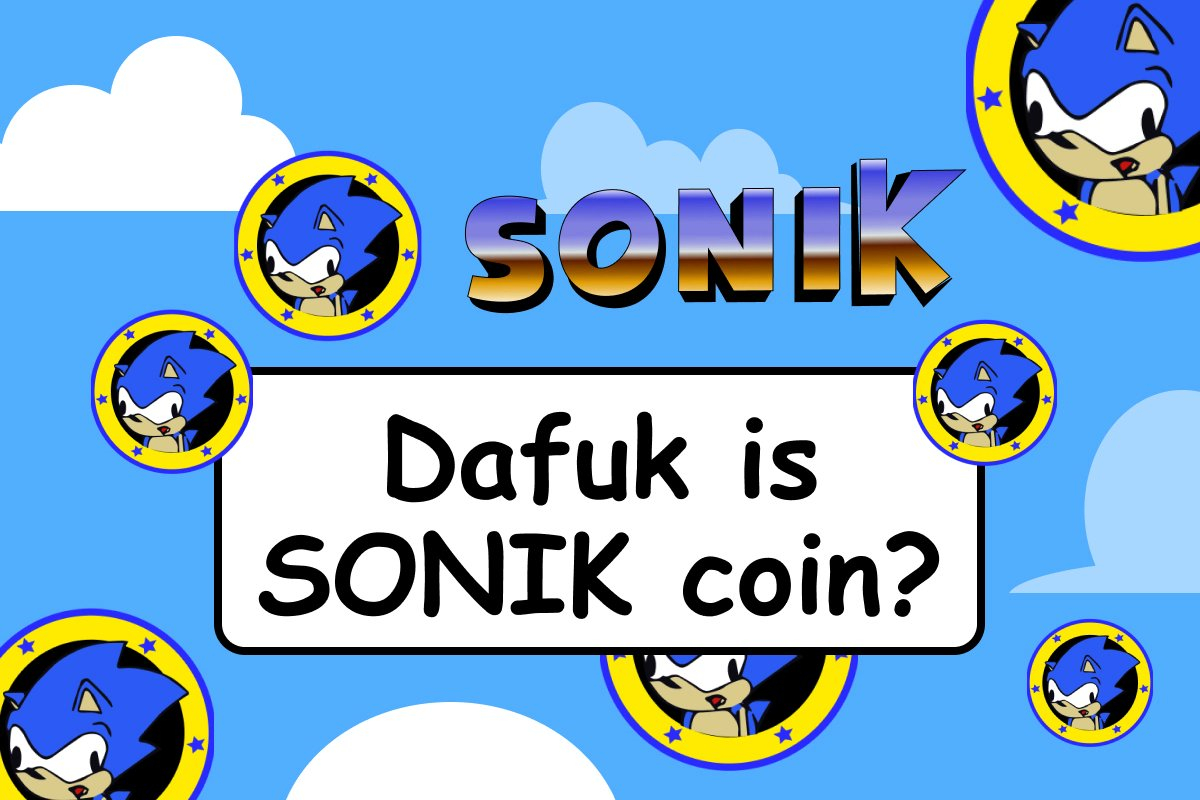 As we navigate the world of meme coins, there's always that palpable excitement of discovering the next big thing. 
Today, let's shed light on one such entrant, the Sonik Coin ($SONIK), which is not only making waves but also racing with the audacious goal of being the fastest token to hit the $100M market cap. And given the current trajectory, this aspiration may soon be a reality.
Sonik Presale 'Gotta Go Fast' Shoots For $100m Market Cap With Supercharged Staking

 An intriguing 50% of the mammoth 300 billion $SONIK supply has been allocated for early investors, making it a limited-time golden opportunity. 
With each token priced at a meager $0.000014, enthusiasts have the perfect entry point, especially before its much-anticipated debut on Uniswap post-presale. 
This decentralized exchange is a powerhouse, and $SONIK's presence there will undoubtedly amplify its visibility manifold.
But Sonik Coin is more than just another meme coin, the staking APY of an astounding 4,300% speaks volumes about its potential returns. 
Staking not only adds an avenue for passive income, but its inclusion also showcases the team's commitment to longevity and stability. 
The idea? By staking, holders are encouraged to hold onto their tokens for more extended periods, thus mitigating volatile price swings and cementing a firm foundation for steady growth.
Now, let's talk about $PEPE, Pepecoin's astronomic growth—delivering jaw-dropping returns of over 10,000% to early backers— has set the precedent. 
Given $SONIK's innovative staking model and the infectious enthusiasm around its branding (a nod to the ever-popular Sonic the Hedgehog), it's poised for a similar, if not more impressive, trajectory.
The transparent, community-centric vision of the Sonik Coin's founders, paired with its tantalizing staking rewards and the buzz it has already generated, sets it apart in a sea of meme coins. 
Check out the Sonik Telegram and Twitter here.
If history and market patterns tell us anything, the early bird catches the worm. Or in this case, rides the supersonic wave.
Buy Sonik Here
Disclaimer: Crypto is a high-risk asset class. This article is provided for informational purposes and does not constitute investment advice. You could lose all of your capital.