#Bitcoin #btc #Crypto #CryptocurrencyMarket #BitcoinHodlDay #bitcoinHunter #bitcoinprice #BITCOIN88 #cryptocurrency #Radix

The Shiba Inu price has dropped by more than 7.5% today, with its slide to $0.00000888 coming after the full public launch of the much-anticipated Shibarium layer-two network.
This means SHIB is down by 9% in the past week, with Shibarium's arrival being plagued by technical issues that have dragged down the meme token's price.
Most notably, reports indicate that around $2.5 million in funds has been lost on bridges to/from Shibarium, something which has already undermined trust in the layer-two network's security and stability.
And unless these funds can be retrieved and a clear fix can be introduced, it's possible that SHIB will continue sliding in the next few days.
Shiba Inu Price Prediction as SHIB Drops 7.5% After Shibarium Launch – What's Going On?
There's no doubt that SHIB has lost a substantial amount of momentum that had been building up towards Shibarium's launch, with its price and indicators all falling steeply.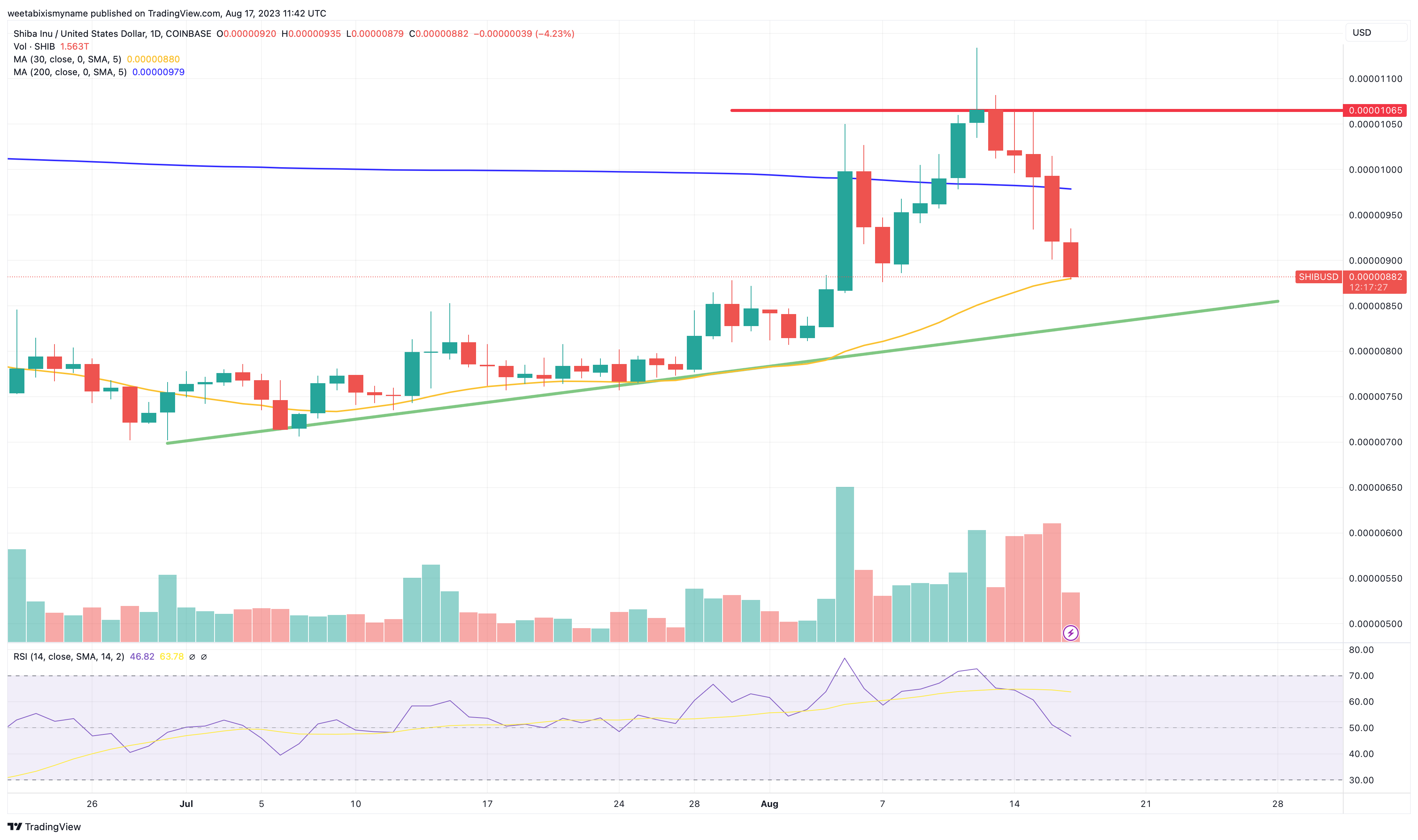 Indeed, the meme token's relative strength index (purple) has plunged from more than 70 a few days ago to just under 50 today, and it's likely that its price will continue dropping as the RSI continues its descent towards 30 or 20.
At the same time, SHIB's 30-day moving average (yellow) looks as though it's about to flatten out and begin descending again, even though it hadn't even reached its 200-day average (blue) prior to losing steam. 
As for the coin's medium-term support level (green), it's about to be tested at around the $0.00000830 level, and it's entirely likely that it will fail.
It's hard to say just how far SHIB will fall before stabilizing, yet there's no doubt that the launch of Shibarium didn't go entirely to plan.
Online speculation indicates that around $1.7 million in Ethereum has been permanently lost on one of the layer-two network's bridges, making for a total of $2.5 million in all cryptocurrencies. 
On top of this, Shibarium has also been plagued by a number of technical issues, from nodes failing to sync to account balances not showing correct amounts.
Given that there had been so much hype for Shibarium, the reality of its launch has been severely deflating, and it's even possible to suggest that the above hitches could be fatal for any hopes of it becoming a major layer-two network with significant adoption.
This would indeed be the conclusion most neutral observers would draw from the steep selloff in SHIB today, with the related BONE token also falling by an impressive 21% in the past 24 hours.
And with on-chain data suggesting that whales have been offloading their supplies of BONE and SHIB, it's likely that SHIB could still fall further.
From its current level of roughly $0.0000088, it may sink below the $0.00000810 level it had at the beginning of the year, and possibly even sink as low as $0.0000070 in the next few weeks or months.
Newer Meme Coins For More Potential
Because SHIB is likelier to fall more in the next few days than to rise, many traders looking for quick gains may prefer to consider newer meme coins.
While many new meme tokens aren't likely to do very well, some of the more promising examples look poised for big rallies in the near future, particularly those that are holding presales.
A good example of this is Sonik Coin (SONIK), an ERC-20 meme token that began its presale this week.
As its name suggests, SONIK has taken the inspiration for its memes from Sonic the Hedgehog, while adding its own edgy and playful twist.
SONIK's presale has been set a hard cap of $2,098,547, with 50% of the coin's overall supply (299,792,458,000 SONIK) being reserved for the offering.
This is in addition to another 40% reserved for staking rewards, with SONIK's status as an Ethereum-based token meaning that investors can earn a passive income from simply holding the token.
Given just how decentralized this distribution is, investors are likely to be more incentivized to support SONIK than many other similar meme tokens, especially when many of these list directly without having a presale.
New buyers can get involved in the SONIK presale by going to the coin's official website, with 1 SONIK costing $0.000014 for the duration of the offering.
And given that Sonic the Hedgehog remains a popular figure within the cryptocurrency community and the general public, SONIK has every chance of rising steadily once it lists on trading platforms in the next few weeks.
Visit Sonik Now
Disclaimer: Crypto is a high-risk asset class. This article is provided for informational purposes and does not constitute investment advice. You could lose all of your capital.