#Bitcoin #btc #Crypto #CryptocurrencyMarket #BitcoinHodlDay #bitcoinHunter #bitcoinprice #BITCOIN88 #cryptocurrency #Radix

Tuesday, August 15, 2023 – The Shiba Inu price has gained 14% in seven days, but Wall Street Memes coin has raised nearly $25 million in its presale and today announces that staking will soon be available.
Wall Street Memes aims to be the king of meme coins as well as the king of stonks, but it is about much more than that. 
There are plans afoot for further product rollouts and staking at an advanced stage, according to sources with knowledge of the matters.
The mission of the Wall Street Memes coin is to monetize the retail investor movement that saw the little guys taking on Wall Street at its own game in the meme stocks frenzy of 2021.
But the team's plans don't stop there. The imminent introduction of staking means token holders will be able to earn a yield from the 30% of the total token supply reserved for community rewards.
So far, $23,944,489 has been raised from investors eager for a piece of the action. There are likely only days to go before the current presale stage is sold out when the $25,928,599 goal is reached. 
After completing the current 29th stage, the token's price rises from $0.0334 to $0.0337 in the 30th and last stage of the presale. The hard cap final target is $30 million.
If $WSM is only fractionally as successful as Shiba Inu, it could easily see a return on investment of 1,000% or more.
From its all-time low at $0.00000000008165 to today's price of $0.00001029, the Shiba Inu coin has pumped 12,601,666% or 126,016x.
The Largest and Fairest Presale of 2023 – With Staking Rewards for Token Owners Coming Soon
Wall Street Memes coin is one of the largest fundraises in the crypto market this year and is the brainchild of the team behind the one million-strong social Wall Street Memes community. It is one of the internet's most influential retail investing communities. 
For instance, its Wall Street Bets Instagram account alone has 534k followers and another 260,000 on X (formerly Twitter). 
The clout of the Wall Street Memes investing community is such that even the world's richest man and most-followed person on Twitter, Elon Musk, has interacted with its Twitter account on several occasions.
When one of the wealthiest men on the planet comes calling, you know you have arrived – Musk has engaged several times with the Wall Street Memes X account, as shown below: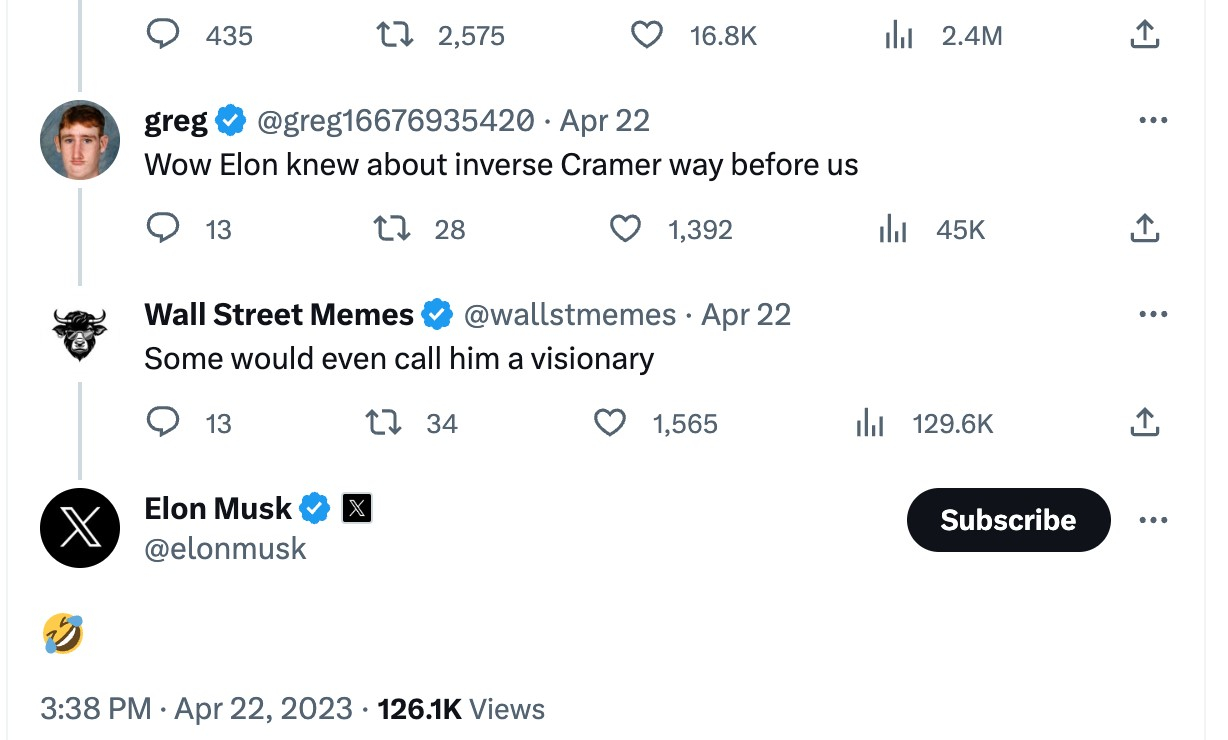 Notably, Musk has also responded to a tweet by the Shiba Inu founder after Wall Street Memes had retweeted it – this suggests that someone among the 410 people Musk follows on Twitter follows Wall Street Memes.
In keeping with its focus on empowering the little guy, 100% of the $WSM token supply is earmarked for the Wall Street Memes community – there is no behind-the-scenes private sale.
That means Wall Street Memes is not just the biggest presale of the year but also one of the fairest.  
Fifty percent of the token supply is available in the presale, 30% as community rewards, 10% for CEX liquidity, and 10% for DEX liquidity.
With the news confirmed that staking is coming to $WSM, token holders will be rewarded for their commitment to the project. Wall Street memes will become a magnet for the funds of long-term crypto investors on the hunt for diversified passive income the staking system will offer.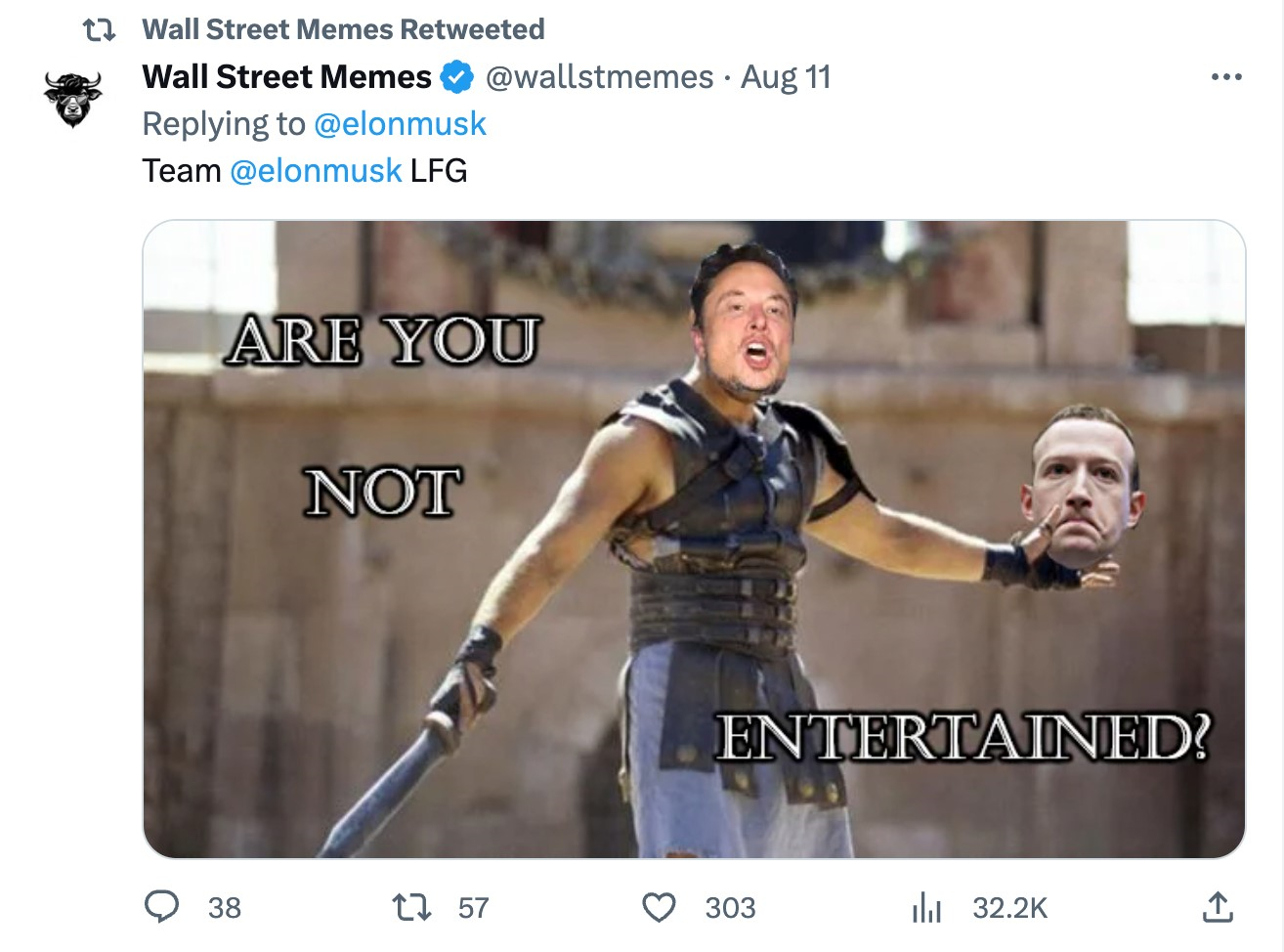 Is Elon Musk the crypto whale who bought $1 million worth of $WSM tokens?
A crypto whale invested $1 million in the Wall Street Memes $WSM presale in early August – maybe it was Elon Musk. 
The mystery whale address purchased $WSM in five transactions amounting to 460 ETH valued at $840,000 executed over six minutes.
A further 93 ETH were made from the same wallet two weeks earlier. In total, $1 million has been invested in $WSM by the mystery crypto whale.
The crypto whale purchases are a significant vote of confidence in Wall Street Memes and its return on investment potential. 
The $WSM crypto whale's token purchases can be seen on Etherscan. 

The same whale address also bought 93 ETH worth of $WSM in a prior transaction. 

Wall Street Memes Coin is a Hit with YouTube Crypto Analysts
The brand allure of Wall Street Memes and the ongoing success of its presale means that it is already a top coin before it even hits the spot market.
YouTubers are coming out in strength to tip the coin for gains that could be multiples of 10x.
Zach Humphries, a YouTube crypto analyst with 110k subscribers, has put skin in the game after recently disclosing on his channel that he has invested $1,000 in the project.
Another $WSM fan is Michael Wrubel, with 310k YouTube subscribers. He has been investing in the project since the presale began. 
Then there's Joe Parys, who told his 380k subscribers on YouTube nine days ago that he reckons there's a strong chance that $WSM will be a 100x coin.
Yet another influential YouTube channel, CryptoDexWorld,  thinks Wall Street Memes could be the next Pepe coin because of its vibrant community of financially savvy retail investors.
And the expanding reach of Wall Street memes coin is evident across major crypto websites, such as Cryptopotato, Analytics Insight, U.Today, Outlook India, Finbold, and Insidebitcoins. 
Given the strength of the Wall Street Memes community and the strong performance of the project's presale, analysts and observers are billing $WSM to be the next viral meme coin.
Prominent YouTube crypto analysts, such as CryptoDexWorld with 108k subscribers, predict that $WSM could go on to match the likes of Pepe, Shiba Inu, or even Dogecoin.
How to Buy the Wall Street Memes Coin – And Enter the $50k Airdrop
Investors wanting to get ahead of significant potential future price rises should consider getting in on the meme coin's presale as soon as possible to secure their $WSM at the best possible discount.
$WSM can be bought on the Ethereum blockchain and BNB Smart Chain using ETH, BNB, or USDT (ERC-20 or BEP-20).
All users need to do is connect their crypto wallet on the wallstmemes.com website to make their purchase. 
Also not to be missed, Wall Street Memes is running a competition where five lucky degens can benefit from a generous $50,000 $WSM airdrop.
Investors who have already purchased $WSM can click on the button at the Wall Street Memes Linktree page to complete the steps to qualify for the airdrop. 
Wall Street Memes, the king of stonks, is fast becoming the king of meme coins. Don't miss out.
Buy $WSM Here
Disclaimer: Crypto is a high-risk asset class. This article is provided for informational purposes and does not constitute investment advice. You could lose all of your capital.